Hmmm...it's been a long time since i ever updated this blog of mine...but anyway, i have a very bishie news!!!

Haha, expect another heartthrob, and guess what? It's from Kingdom Hearts...don't even interfere, he's so cute!!!
Name, Roxas. (Ruck-sas)
don't worry i'll post a picture of him, but first of all, read this!

Roxas will be the first person you'll play in the first three hours of Kingdom Hearts 2. (spoilers ahead for those who havent finished it yet!)
The first 3 hours are considered as the skirmish, yah know, tutorials, though he has connections with Sora.

What made me like him than SORA is, he's tragic. Yup, a lot of people looks up to him, and a lot of people likes him in Twilight Town, his hometown.
But since he's Sora's Nobody, a part of Sora has been transferred to him and that's why he can feel, Nobodies can't feel, really. But Roxas is a Nobody who seeks Sora, he wants to meet him, and he's a VERY IMPORTANT character, and on the good side.
He meets with Namine', Kairi's (Sora's love) Nobody, she controls Sora's memories, that also affects Roxas. Though, both of them believe they will not disappear, since all Nobodies do, and yet, they did not disappear, near the end, you'll find them inside Sora and Kairi's hearts.

What really made me sad for Roxas is when Sora was complete, Roxas cannot be seen by his pals, nor the people, and he's been erased not just from memories, but also photos.
Then...before he reunites within Sora's body...

"Sora...you're lucky. Looks like my summer vacation...is over."

and with that, he enters Sora's body, and you'll now play as Sora.

He had been one of the favorite characters of many, in KHInsider, he tops the poll: Roxas or Sora?
and many other polls i've visited, he's number one, second Sora.

But dont worry folks!!! He appeared at the end along w/ Namine'! I just hope they'll appear in KH3, i have to wait for another four years...Also, Jesse McCartney voices Roxas.

So, here's the picture of him I promised, the girl is Namine, ok?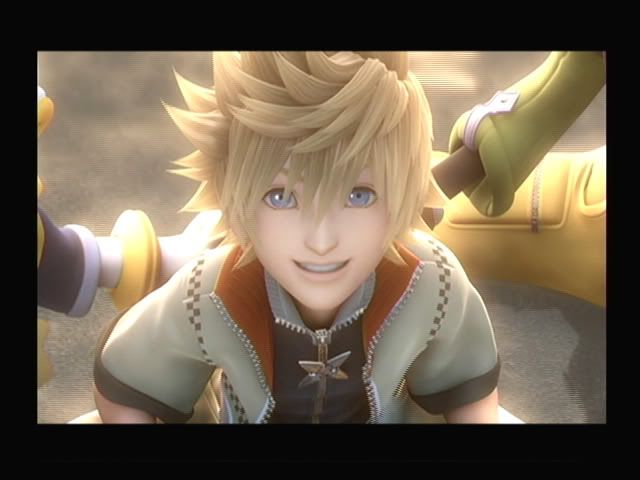 Labels: fandom